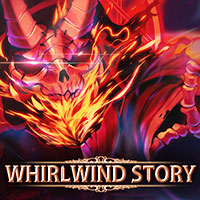 Whirlwind Story
CASUAL / RPG
INTRODUCTION
Whirlwind Story will take you back to popular classic RPGs.
Re-experience the fun of farming your items, not pay-to-win system.
◆ Enjoy breathtaking battles with infinite Whirlwind!
Experience Hack and Slash action, which instantly wipes out the enemies.
◆ Create unique characters with different item combinations.
Powerful Monsters at Challenge Tower!
Beat the powerful boss monsters and advance to higher stages to prove your skills.
And, Most Importantly...!

We, the developers of [Whirlwind Story], will try our best to provide endless fun to our users.

READ MORE